The Triangulo de Oro Dark Roast is a sweet mix of coffees from the Naranjo and Tres Rios regions, specially selected to be dark roasted. This coffee is a great example of the rich coffee at Cafe Triangulo de Oro.
Coffee 100% Arabic Bean, harvested at altitude between 1000 and 1300 masl.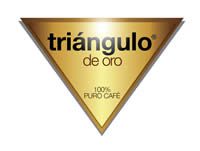 Triangulo de Oro
The Company was founded more than 92 years ago. In 1923, by the Colorado river with a stone mill moved by water, it was produced the first 100% pure Arabic coffee in Costa Rica. From our legendary Triángulo Cafetalero de Oro arose the first pure coffee of Costa Rica: Triángulo de Oro.
Today Cafe Triangulo de Oro continues to produce coffees observing their longstanding traditions: Meticulous selection, natural processing and craft roasting. But nothing has been more centric to the building of their reputation than deep and long relationship the hold with farmers that grow the coffee. Understanding that the overwhelming factors determining the quality of the coffee in the cup are a product of the harvest, they set forth be a integrate part it and the best way was to forge long reciprocal relations with farmers.
Triangulo de Oro takes its name from the triangle formed by the regions from where they get there coffee for their proprietary blend: Tarrazu, Naranjo and Tres Rios.